How much does it cost to hire offshore developers in top outsourcing regions?
The average cost of software development services varies greatly from country to country, and the rates are highly influenced by the model of collaboration with the tech provider. Additionally, rates may depend on the platform that you use to hire offshore developers.
We help you with the offshore software development rates by region and understand the factors that influence software development rates.
A Quick Check
Before we dig deeper into region-specific rates, let's understand how the cooperation model influences the IT outsourcing prices.
Project Outsourcing Model
Developers' Salary
Product Delivery Risks
Overheads (BA, QA, Architect, etc.)
Vendor Fee + Other Overheads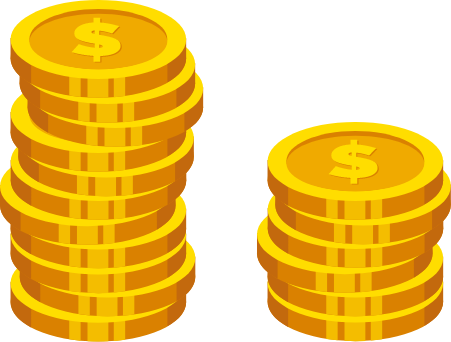 Extended Team Model
Developers' Salary
Vendor Fee + Other Overheads
Here's your guide to
Offshore Development Rates by Region
The price range mentioned below are a rough guideline as they ignore the differences between various cooperation models. To find out what the real outsourcing rates are, you'll need to communicate with vendors directly.
Eastern Europe
Average Hourly Rates:
$25 – $50
Offshore development rates in Eastern Europe vary from country to country. For instance, outsourcing rates in Ukraine are lower than those in Poland. Yet, on an average, a junior software developer will cost around $25  per hour and up to $50 per hour for a senior software engineer. But if you use the outstaffing model and select junior engineers, the rate for offshore developers may be as low as $18 per hour.
The region is well-known for its density of software developers with an impressive 1.3 developers per 100 people.
Ukraine
Belarus
Russia
Poland
Czech Republic
Romania
Hungary
Estonia
Slovakia
Bulgaria
Latvia
Asia
Average Hourly Rates:
$18 – $40
Asian countries like India and the Philippines are very popular destinations for offshoring. Both offer a massive talent pool of talented English-speaking engineers, and all Asian countries also come with lower costs than their European counterparts, anywhere from $18-$40 per hour on average.
The big differentiator between Asian countries is value. India, in particular, offers superb value for money: their engineers are as highly-trained as any in Germany or the UK, and new grads are extremely well-educated. India is quickly earning a reputation as a first-rate producer of excellent software engineers. The Philippines, by contrast, has more of a reputation for IT support and contact centres.
India
China
Philippines
Vietnam
Bangladesh
Indonesia
Malaysia
Nepal
Pakistan
Sri Lanka
Thailand
Latin America
Average Hourly Rates:
$30 – $50
Latin America has a growing industry of offshore software development with numerous outsourcing countries available. The top locations are Argentina, Mexico, and Brazil, but the hourly rates in these countries are $30–50. Offshore development rates of senior software developers get as high as $50 per hour.
Argentina
Brazil
Chile
Colombia
Costa Rica
Mexico
Panama
Peru
Africa
Average Hourly Rates:
$20 – $40
Africa, at first glance, seems to be a rather cheap and growing destination to outsource software development. This is certainly the case for countries such as Egypt, Morocco, and Kenya, where hourly outsourcing rates can cost you around $20 or even less. Countries like Nigeria and South Africa, however, are not very cheap— they can cost around $40, due to an unfilled labour market across the continent, and it can be hard to find software developers who provide high-quality services at an efficient cost
Egypt
Kenya
Morocco
Nigeria
South Africa